Gold $1 Coins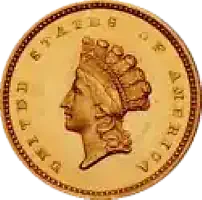 The Type 2 gold $1 coin, also known as the Liberty Head or "Small Head" design, was introduced in 1854 and minted until 1856. This type featured a slightly larger diameter compared to the Type 1, but still faced criticism for being too small. However, many collectors and numismatists appreciated the intricate details and artistry of the Liberty Head design, which depicted Lady Liberty wearing a coronet inscribed with the word "Liberty."

In response to the ongoing criticism about the size of the gold $1 coin, Mint Chief Engraver James B. Longacre introduced the Type 3 design in 1856, also known as the Indian Princess or "Large Head" design. This type featured a larger diameter compared to both Type 1 and Type 2, and depicted Lady Liberty as a Native American princess with a feather headdress. This design was well-received by many collectors, who found it to be a unique and captivating portrayal of Lady Liberty.

Today, all three types of the gold $1 coin are highly sought after by collectors and investors alike. Despite the initial opposition to their small size, these coins are now considered rare and valuable pieces of American numismatic history. Whether you prefer the delicate beauty of the Type 1, the refined elegance of the Type 2, or the distinctive portrayal of Lady Liberty in the Type 3, adding one of these gold coins to your collection is a testament to the enduring legacy of the California gold rush and the artistry of James B. Longacre's designs.