Seated Liberty Dimes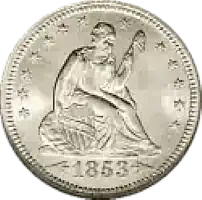 The United States seated liberty dime, also known as the seated liberty 10-cent piece, has a rich and fascinating history that spans over a century. The seated liberty dime was first introduced in 1837 as part of a new design series for the dime denomination. It was designed by Christian Gobrecht, who was the chief engraver at the United States Mint at that time. The seated liberty dime features a prominent depiction of Lady Liberty seated on a rock, symbolizing freedom and strength. Lady Liberty is shown wearing a flowing gown, with her left hand resting on a shield that bears the inscription "LIBERTY," and her right hand holding a pole topped with a Phrygian cap, a symbol of liberty and emancipation. The reverse of the dime showcases a wreath encircling the denomination "10 CENTS" and the mint mark, if applicable. The seated liberty dime was minted in several different varieties and underwent various design modifications throughout its history. In its early years, the dime was struck in a composition of 90% silver and 10% copper, with a diameter of 17.9 mm and a weight of 2.67 grams. Over time, there were changes to the design, including alterations to the size and placement of the stars, arrows, and other details.

During its circulation, the seated liberty dime witnessed significant historical events, such as the Civil War, the abolition of slavery, and the westward expansion of the United States. It was used as currency for everyday transactions and was an essential part of the nation's economy. In 1891, the seated liberty dime was replaced by the Barber dime design, which featured a new design by Charles E. Barber. Despite being discontinued, the seated liberty dime remains a beloved and cherished piece of American numismatic history.