Seated Liberty Half Dollar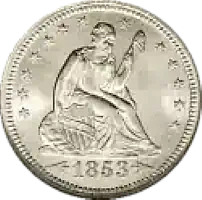 The United States Seated Liberty Half Dollar was first introduced in 1839 as part of a major redesign of the country's silver coinage. The new design, created by Chief Engraver Christian Gobrecht, featured a depiction of Lady Liberty seated on a rock, holding a shield inscribed with the word "Liberty" and a staff topped with a Phrygian cap, a symbol of freedom.

The Seated Liberty Half Dollar was minted from 1839 until 1891, with several modifications made to the design over the years. In 1866, the motto "In God We Trust" was added to the reverse side of the coin, while in 1873, arrows were added to either side of the date on coins minted from 1873 to 1874 to indicate a slight decrease in the weight of the coin.

Throughout its history, the Seated Liberty Half Dollar was a popular coin among collectors and the general public alike. It was widely used in daily commerce, and many people saved the coins as a form of investment. Today, the Seated Liberty Half Dollar is highly prized by collectors, with some rare coins fetching prices in the tens or even hundreds of thousands of dollars.