Seated Liberty Dollar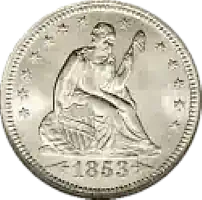 The United States Seated Liberty Dollar was first introduced in 1840 and was in production until 1873. The coin's design featured Lady Liberty seated on a rock, holding a staff with a Phrygian cap on top, symbolizing freedom. The reverse side displayed an eagle with a shield, holding arrows and an olive branch, representing military strength and peace, respectively.

During the early years of production, the coin underwent several changes, including alterations to the size and weight of the coin, as well as changes to the design. In 1853, the weight of the coin was reduced to 412.5 grains, and the diameter was increased to 38.1mm. In 1866, the motto "In God We Trust" was added to the reverse side of the coin.

The Seated Liberty Dollar was used as a medium of exchange for goods and services, as well as for international trade. The coin's popularity, however, waned over time, and it was eventually replaced by the Trade Dollar in 1873, which was specifically designed for use in international trade with Asia.